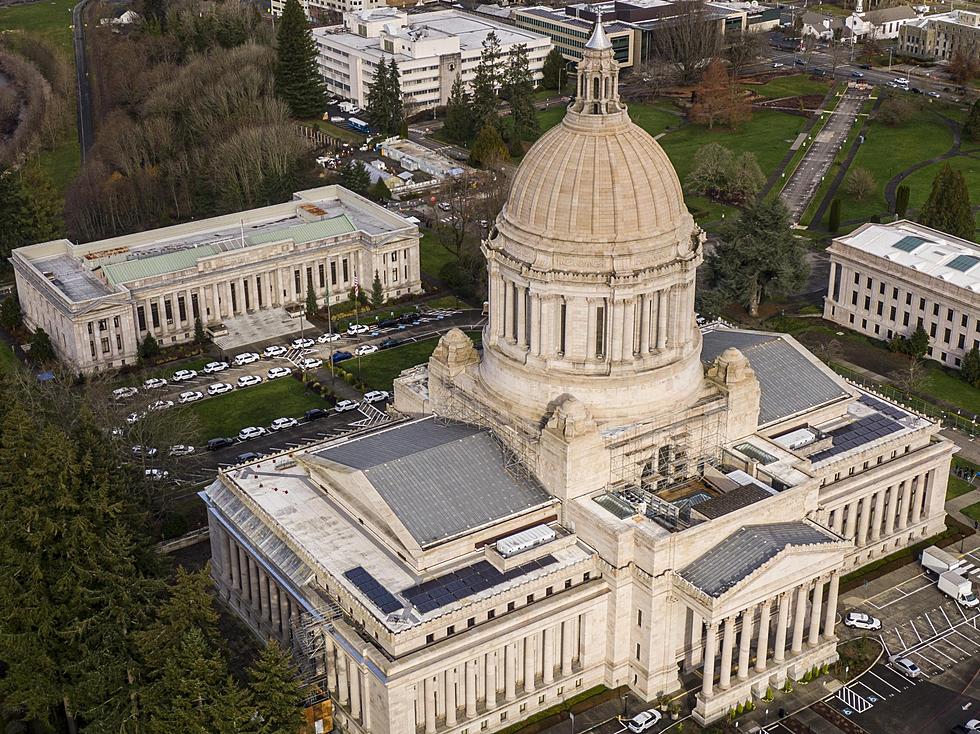 WA House Capital Budget Includes $175 Million Foe 12th District
Washington State Capitol, Olympia, WA/ Getty Images
The Washington House version of the state's Capital Budget will run through a committee this week. 
The budget in its current form includes about $175 million for the 12th legislative district, which includes Chelan County. 
The single largest project in the Capital Budget ($45 million) is a new 70,000 square foot building for the Center for Technical Education and Innovation at Wenatchee Valley College. 
The Center for Alcohol and Drug Treatment in Wenatchee will also get funding ($20 million) to build a brand-new facility. 
The House Capital Budget Committee is holding two meetings this week to finalize the budget before negotiations with the Senate begin. 
Representative Mike Steele of Chelan is ranking member of the Capital Budget Committee and is the lead Republican negotiator and budget writer for the proposed budget. 
"I'm really excited to see funding for our district prioritized in a big way in this proposal," said Steele. "If approved by the Legislature, this plan will serve our communities well, encourage continued economic growth, and allow our district to thrive." 
Governor Jay Inslee toured the Center for Alcohol and Drug Treatment last month. 
A letter of request for the center's funding asked for a completely new building after a feasibility study showed that making improvements to the current center would cost more than building a newer, larger space.  
Historically, more than 50 percent of the Capital Budget has been financed by state-issued general obligation bonds, and the balance is funded by dedicated accounts, trust revenue, and federal funding sources. 
The proposed House Capital Budget appropriates a total of $8.34 billion. Roughly $4.18 billion comes from the sale of newly authorized, general obligation bonds, with the remaining $4.15 billion comprised of a combination of reversion of previously authorized bonds, other dedicated funding sources, and federal funds.  
It leaves $160 million on the table for next year's 2024 supplemental capital budget.  
The 2023-25 Capital Budget covers the period from July 1, 2023, through June 30, 2025. 
A news release by Rep. Steele and Rep. Keith Goehmer R-Dryden listed 12th District project highlights:
The Center for Technical Education and Innovation (Wenatchee): $45 million;

Chelan Valley EMS: $11 million;

The Center for Alcohol and Drug Treatment (Wenatchee): $19.6 million;

King County Area Readiness Center: $6 million;

Lake Chelan Food Bank Building Remodel & Addition: $2 million;

Community Center at Lake Chelan: $1.7 million;

Affordable Workforce Rental Housing (Leavenworth): $1 million;

Fall City Business District Septic: $1.5 million;

Wenatchee Valley YMCA: $1.03 million;

Wenatchee Valley Museum Expansion and Redesign: $1 million;

Snoqualmie Valley Youth Center Barn with Storage (North Bend): $231,000;

Water Line Repair (Index): $628,000;

North Fork Skykomish River 911 Extension: $420,000;

Manson Fire Station: $206,000;

Manson School District: $262,000; and

Skykomish School District: $25,000.