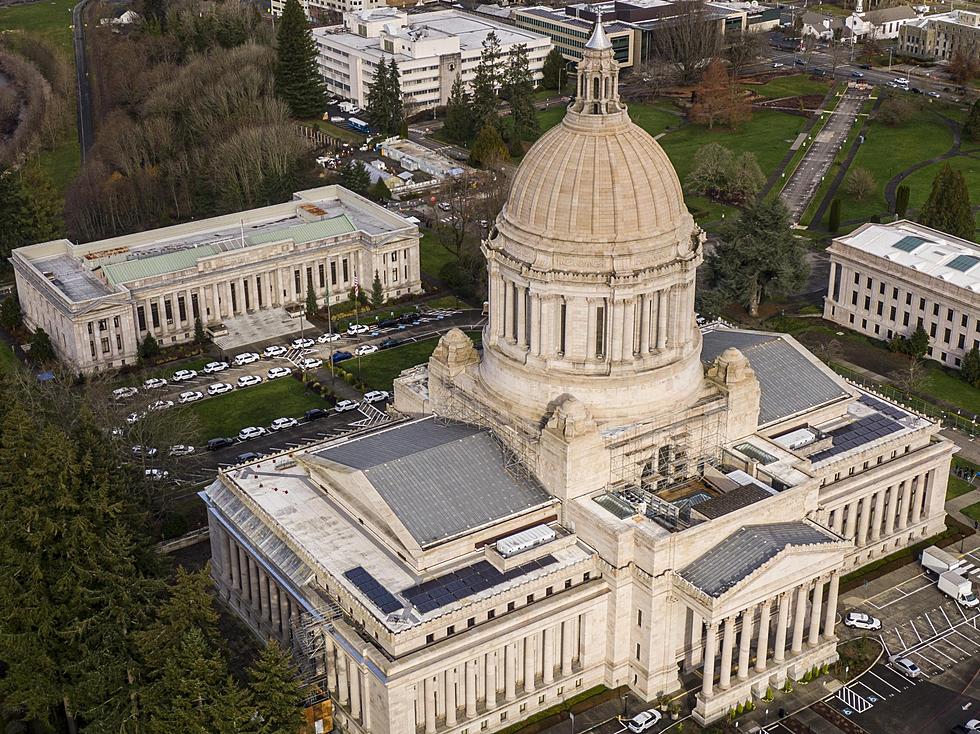 State Bill Protecting Reproductive and Gender-Affirming Healthcare Advances Through Senate Committee Process
Washington State Capitol, Olympia, WA/ Getty Images
A bill that would protect reproductive health care services and gender-affirming treatment is advancing through the Senate Committee process.
Engrossed Substitute HB 1469 would protect those seeking either of these services in Washington state, without fearing persecution from states who are outlawing these services.
Reproductive healthcare includes services or medicine related to pregnancy, assisted reproduction, contraception, miscarriage management, or a pregnancy termination, or an abortion.
Gender-affirming care services include treatments for gender dysphoria, hormone therapy, and surgical procedures.
According to this study, trans individuals who feel affirmed and supported in their gender-identity more often than not have a greater quality of life, and less than 1% of trans individuals regret their transition.
If any of these stipulations are violated, State Attorney General Bob Ferguson would need to get involved.
13th-District Representatives Tom Dent and Alex Ybarra, 12th-District Representatives Mike Steele and Keith Goehner, and 7th-District Representatives Jacquelin Maycumber and Joel Kretz, all voted against this bill.
On March 16, the Senate Law & Justice Committee held a public hearing for this bill.
Key sponsor and 23rd-District Representative Drew Hansen said Washington state needs to be as aggressive in protecting these rights as other states are at restricting them.
"They are free to make their own public policy choices, but we are free to restrict their ability to use our courts and our judicial processes to enforce those choices when they are contrary to the choices in Washington State," Hansen said.
Dr. Annie Iriye with the American College of Obstetricians and Gynecologists testified in support of this bill, recalling an instance where her colleague treated a woman from Texas who needed an abortion.
"My colleague could theoretically be prosecuted for doing her job and for reducing this patient's health risk by performing an abortion," Iriye said. "No patient or provider deserves this, or to have their private medical care or history be used against them in a lawsuit."
According to this study, maternal deaths increased in states that restricted access to abortion.
Dr. Crystal Beal with the Western Washington Pediatric and Adolescent Gender Care Network says both patients and providers have begun to fear for their safety due to legislative attacks on gender-affirming healthcare.
"We've experienced bomb threats and protests at our clinic," Beal said. "One of our clinicians was threatened to be set on fire. We received death threats every week. Our daily lives have changed."
Sarah Davenport-Smith opposed the bill, saying it does not help vulnerable people seeking medical services, but would instead protect a certain class of bad actors.
"How much more difficult will it be to legally determine whether or not a civil or criminal act took place?" Davenport-Smith asked. "How much more difficult will it be to bring justice to victims when those medical professionals who are providing these protected health services are essentially shielded? Lastly, when these cases go to court, what precedents will be set for other professions outside of the protected health services?"
Brad Payne with the Family Policy Institute of Washington testified against the bill, stating that this bill is one of many that promotes abortion, gender mutilation, and the erosion of parental rights.
"There's a potential that our children and young adults will be shielded from learning the dangers of these abortion-inducing drugs, and the surgeries, and the gender mutilation procedures that they may choose to undergo," Payne said. "They may be shielded from consultation with pregnancy resource centers, adoption agencies, and the many parents out there that are desperately wanting to adopt children."
On March 22, during an executive session in the Senate Law & Justice Committee, 2nd-District Sen. Jim McCune proposed an amendment to the bill that would limit gender-affirming healthcare to individuals 18 and older. That amendment was voted down.
Ranking Republican member of the committee Sen. Mike Padden said this bill violates the Full Faith and Credit clause of the constitution, which states that courts must respect laws set by other states.
This bill was sent to the Senate Ways and Means Committee.