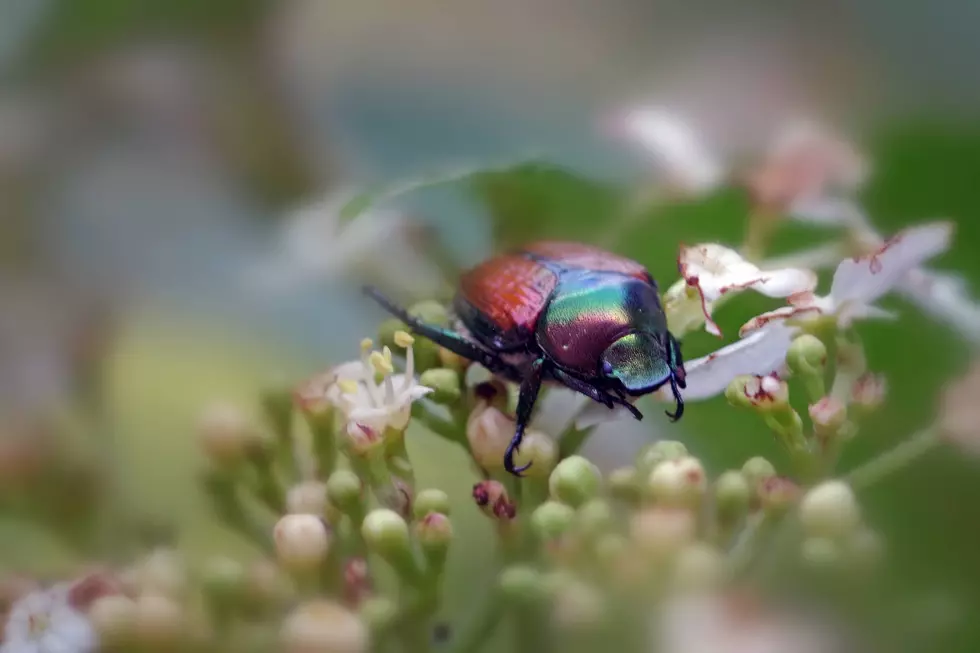 WSDA: Japanese Beetles Appearing In South Central Washington
Photo: WSDA
Late last week, Washington State Department of Agriculture entomologists confirmed the first report of Japanese beetle larvae for the year.  This is the first report of a larvae or grub confirmed in the beetle infestation area near Grandview, WA.  A resident of Grandview was weeding her garden on June 13, and discovered white C-shaped grubs or larvae in the soil of her boxed garden beds. She submitted a report to a WSDA field supervisor. WSDA retrieved the larvae later that afternoon and observed multiple grubs with visible legs. The specimen was reviewed under a microscope and confirmed to be Japanese beetle larvae.
WSDA installed a beetle trap on the resident's property to capture any possible emerging adults.  The Department will also work to remove remaining grubs from the garden.  These will be used to research collecting strategies that could benefit future public surveys.
Japanese beetles are not native to Washington and threaten more than 300 plants, including roses, grapes, hops, apples, and grass.  In 2021 WSDA trapped more than 24,000 beetles in the Grandview area.  This year WSDA deployed 2,229 traps to capture any emerging adults.  The traps will also monitor the locations of Japanese beetles.
WSDA said it is working to eradicate the pest by treating properties in and around the infested area. In total, WSDA is treating around 2,000 acres in Grandview and surrounding areas of Yakima and Benton counties.
According to the Department of Ag, residents inside the treatment area are encouraged to prevent the spread of Japanese beetles by not moving items on which Japanese beetles can travel and spread.  Soil, dirt or fill is encouraged to stay on site, including potted and outdoor plants. Waste or debris from yards, gardens, and other horticulture activities should also stay inside the treatment area.
People traveling in and out of the treatment area should check their vehicles and machines for Japanese beetles. Checking for hitchhikers can help protect Washington's agriculture and natural resources. If you suspect Japanese beetle, report it. Take a picture and note the location, then visit WSDA's online reporting form, email PestProgram@agr.wa.gov, or call 1-800-443-6684.
If you have a story idea for the PNW Ag Network, call (509) 547-1618, or e-mail gvaagen@cherrycreekmedia.com