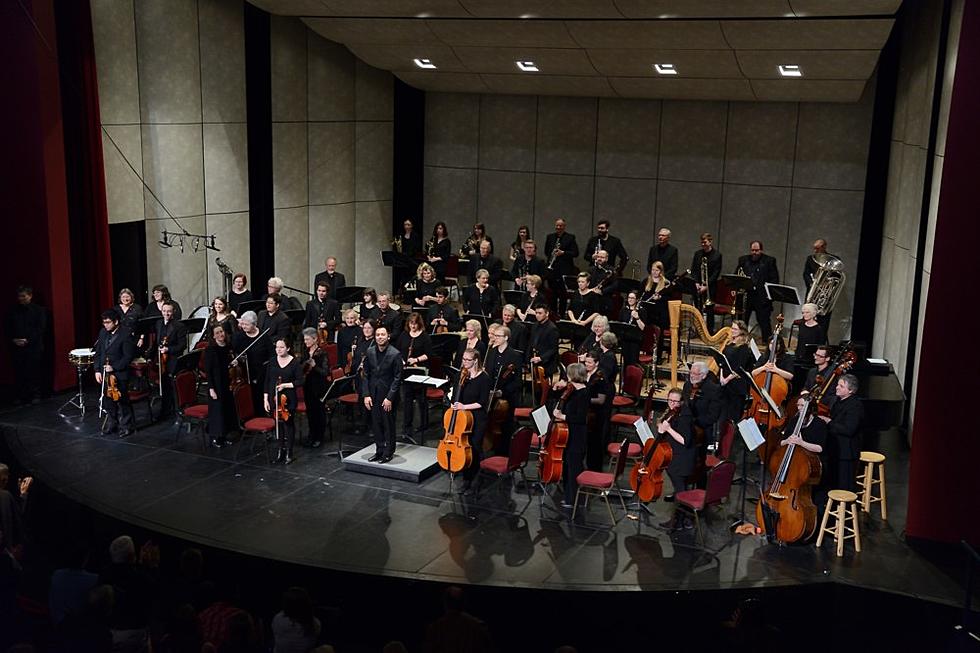 Wenatchee Valley Symphony Orchestra Season Finale
Wenatchee Valley Symphony Orchestra Photo credit: WVSO
During the 1969 Apollo 11 mission to the first lunar landing, commander Neil Armstrong brought along music for the occasion that included a recording of Dvorak's Symphony #9 "From The New World".
The Wenatchee Valley Symphony Orchestra (WVSO) will present their final performance of the 2022-23 season at the Numerica Performing Arts Center on Saturday, April 22 at 7pm featuring a performance of Antonin Dvorak's New World Symphony. WVSO Music Director and Conductor Nik Caolie says the Saturday program is named for American composer Quinn Mason's overture "Toast Of The Town".  .
Caoile describes the New World Symphony for those who are unfamiliar with the music Armstrong played on the moon as "powerful and energetic. You can hear the intensity, it's very riveting".  Caoilie says concertgoers will hear hints of John Williams music or  movie soundtracks.  "I think it's amazing that this piece was composed over 100 years ago and it's still captivates us today".
The concert is called "Toast Of The Town" for Quin Mason's overture of the same title.  Mason is an African American composer in his late 20s. Caoile says with "Toast Of The Town" Mason is trying to create a sound like Gilbert and Sullivan.  "It is very light and has a comical feel".
As a bonus, Caoile says the Wenatchee Valley Youth Orchestra will be playing joining with the Wenatchee Valley Symphony Orchestra side by side to perform the "Toast Of The Town" overture.
The evening includes a concerto featuring two guest soloists;  violinist Vanessa Moss and cellist Brooke Scholl.   The soloists join the WVSO to perform Saint-Saëns' La muse et le poète, "a duo concertante for violin, cello and orchestra.
As WVSO puts a bow on the performance calendar this Saturday evening, Caolie calls the 2022-23 season a success.  "This season has really hit my goal of bringing classical standards to this audience but also bringing new music.  We've done Dvorak, Berlioz, Tchaikovsky,  Copeland, composers that we've known for a very long time, but we've also introduced new composers like Kenji Bunch, Michael Doherty, Quinn Mason and what I've loved about this audience is that they've been very, very welcoming to this new repertoire".
Caoie the other goal of reaching young people has been a success as well. "The other thing that's been a feather in our cap this season is to to get to support young people in their pursuit of music, and the pursuit of learning classical music". Caoilie notes the  Wenatchee Valley Youth Orchestra collaboration in Saturday night's concert will be a memorable event for the young musicians.  WVSO also held a classical kids outreach concert for public schools featuring Mozart earlier this year. WVSO has more children's outreach planned in the future.  "We're doing more than just playing music. We're getting active in our community as well".
For ticket information, visit WenatcheeSymphony.org program details and information or call the Numerica Performing Arts Center box office at 509-663-2787.
i