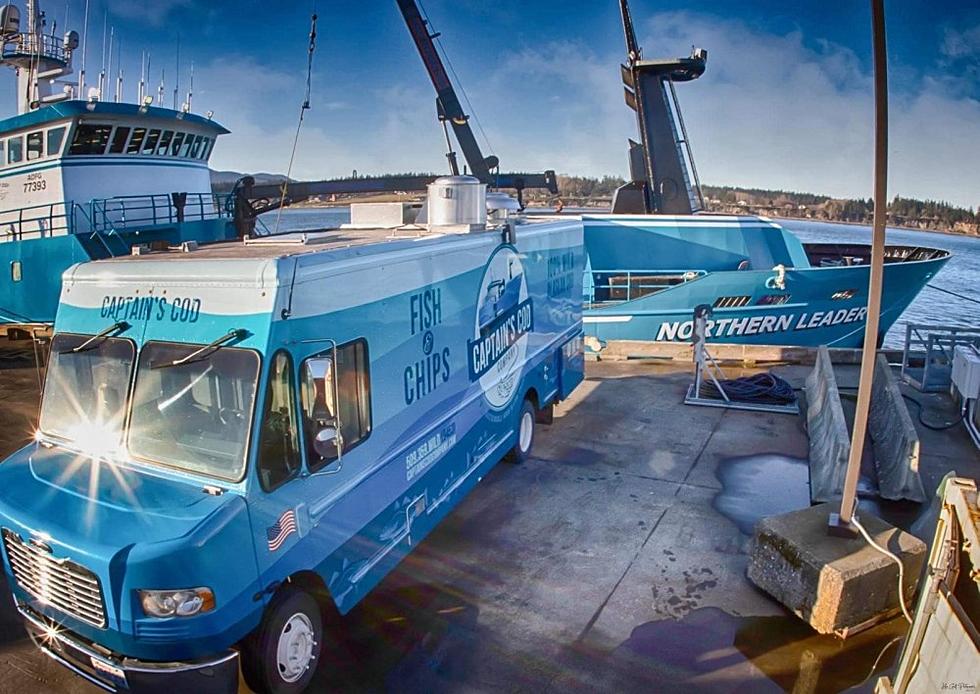 Wenatchee Needs A Food Truck Gathering Spot!
Captain's Cod Food Truck/credit: facebook page
Fast food restaurants have been doing it forever, tending to locate along one stretch of a busy street.  The north end of Mission Street before it merges with Miller Street was once referred to as a fast food row.
It still is to some degree with McDonald's, Chipotle, KFC and Subway within a few hundred yards distance.  Sub Shop used to be located there as well.
The idea being the location, location, location and you want to be where fast food diners are.  Well, why not food trucks?  It works so well in Portland, Oregon's legendary food-cart scene, they are clustered in permanent locations called pods. There are at least five of them
It's akin to a food court in a mall but with incredibly well done cuisine!
Wouldn't it be great if all the food trucks operating in the Wenatchee area congregated in one spot on some regular basis?  Like every Saturday through the summer time.  Perhaps in the Town Toyota Center parking lot, across from busy Walla Walla Point Park or in the vast K-Mart Plaza parking lot in Olds Station near the Odabashian Bridge and nearby Confluence State Park.
These are just a few suggestions and you may have even better ideas.  Imagine pulling up and enjoying your a choice of wonderfully prepared food from a variety of food truck vendors all in one spot.
Some Popular Food Trucks in Wenatchee
Blue Skies Food Shack
Blue Skies Food Shack does Thai food, Smoked  Chicken Bratwurst, Vegetarian/GF/V
Blue Skies Facebook page
Captain's Cod Fish & Chips
Captain's Cod Fish & Chips does Wild Alaskan Cod fish & chips, cod fillet sandwiches, cod fritters and clam chowder
Phone (833) 374-6247
Find Captain's Cod Fish & Chips schedule
Mama Tina's Wood Fired Pizza
Mama Tina's Wood Fired Pizza is a mobile wood fired pizza restaurant serving the Wenatchee Valley.  NOTE--Opening a permanent location at 729 Riverside Drive in Wenatchee, WA on March 25th
Phone (509) 630-0450
Mama Tina's Facebook page
Fatburger ~ Fatmobile 
Fatburger ~ Fatmobile Washington bills itself as "The last great hamburger stand on wheels servicing Central Washington"
Phone (509) 797-2272
Fatburger's Facebook page
Twin T's Ice Cream
Twin T's Ice Cream offers the perfect summertime ice cream favorites
Twin T's Facebook page
Dooley Dogs
Dooley Dogs claims the title of the cutest and most delicious hot dog stand west of the Mississippi. Serving all-beef hot dogs steamed to perfection.
Dooley Dog's Facebook page
In the words of Shoeless Joe Jackson from Field of Dreams ......"If you build it, they will come" and we could use more food trucks in Wenatchee.  So, how about establishing a food truck place where they can all draw a crowd of hungry people once a week and everyone in your group can have some great selections to choose from in one convenient location!
LOOK: Food history from the year you were born
From product innovations to major recalls,
Stacker
researched what happened in food history every year since 1921, according to news and government sources.