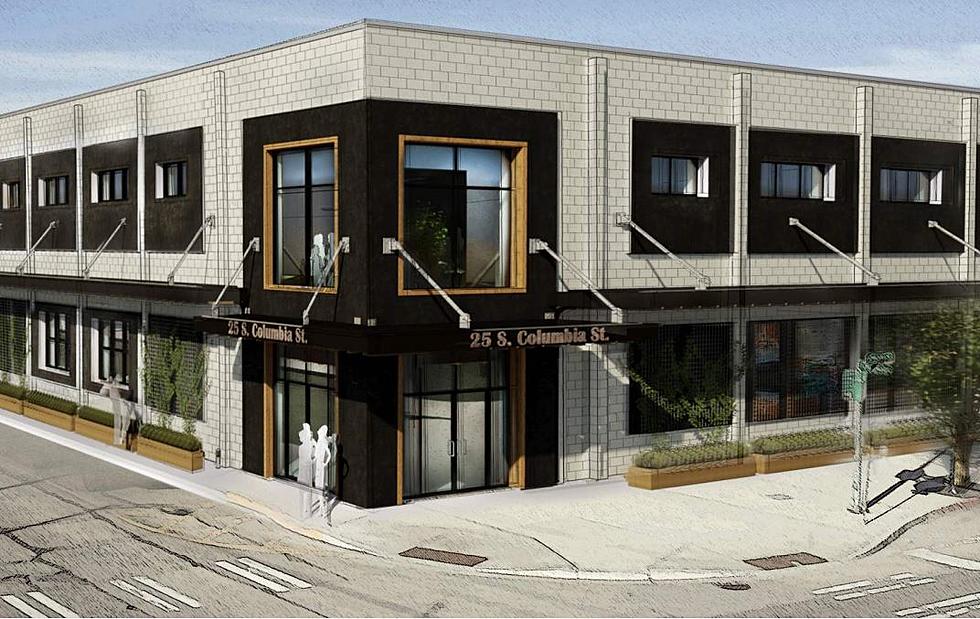 Plans Progress To Renovate Empty Wenatchee Warehouse
Image of Apple Packing District warehouse renovation concept from Chelan Douglas Regional Port Authority
Plans to develop an empty warehouse in the Apple Packing District of Wenatchee are moving forward. 
The Chelan Douglas Port Authority owns the building at the corner of Columbia Street and Orondo Avenue and is working with an investment firm to renovate the property. 
Port Authority Director of Economic Development and Capital Projects Stacie de Mestre says they're looking to convert what's considered a no man's land into a bridge between downtown Wenatchee and the waterfront. 
"We're looking for a development that would complement the downtown and the waterfront, not duplicate what's already there, but just help to draw people from the waterfront toward downtown, and from downtown toward the waterfront," said de Mestre. " 
The firm JAB Investors has an agreement with the Port to explore how the building can be renovated, and eventually buy the property from the Port. 
The agreement is a letter of intent, which calls for JAB to conduct its own feasibility analysis of the structure, with the option to terminate the agreement if the property is not suitable for its use. 
JAB's goal is to prepare architectural renderings associated with the development for the review, comment and approval of the Port prior to the expiration of the Feasibility Period. 
The firm originally had plans to move its entire fabrication business to the building but told the Port this week that the fabrication outlet would instead be moving to the Tri-Cities. 
De Mestre said JAB is talking to another light manufacturing business about occupying the space. The business has box trucks that would bring in materials and take out products. 
JAB is also looking to include retail shops in the space. "JAB Investors told us that they are in conversations with a winery that has an interest in locating there as well as a restaurant, so I think there would be a little bit of a retail component," de Mestre said. 
For its part, the Port has a priority of adaptive reuse of the properties in the warehouse district.  
The Columbia Street Overlay designation envisions the preservation of the industrial flavor of the District, while allowing new uses including loft live/work space, maker spaces, studios for dance or gymnastics, artisan retail, tasting rooms, breweries and offices.  
The Port would like the development character focused on maintaining the apple packing and warehousing history of the District.  
The Port is listing the entire complex – all buildings and two parcels – for a minimum sales price of $ 2,100,000. It will also consider selling the site's North Building only for $1,050,000, or the South Building only for $1,300,000. 
de Mestre says the Port would like to see redevelopment of the building completed in the next year or two.