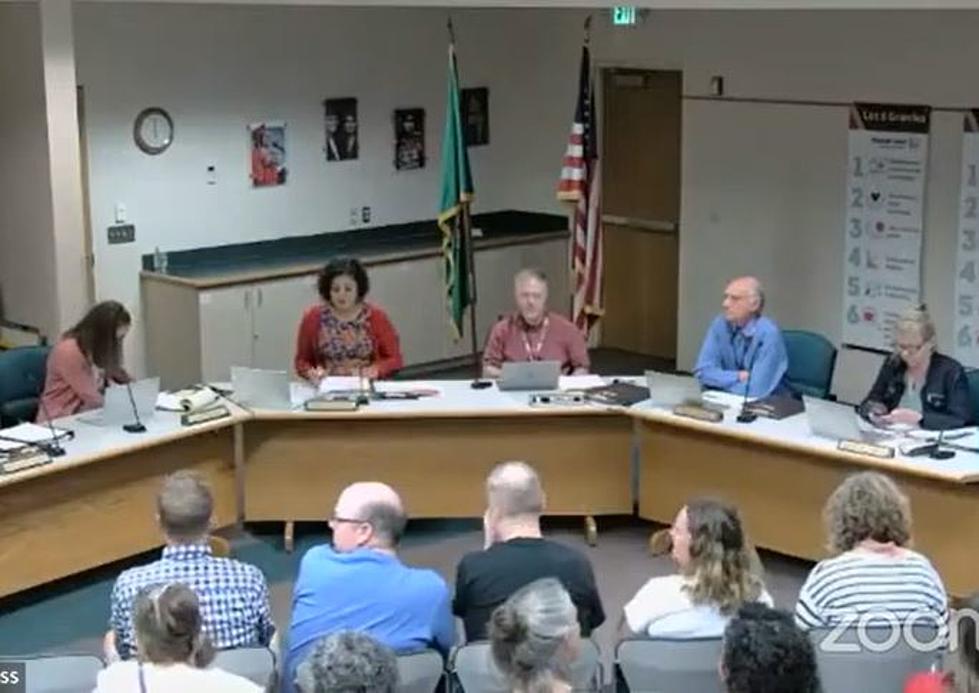 Group Against Book Bans Packs Wenatchee School Board Meeting
Wenatchee School Board meeting May 23,2023 from district's YouTube page
A group opposed to banning books in schools is vocalizing its concerns.
Tuesday night's Wenatchee School Board meeting was packed with residents supporting more than 20 speakers who spoke out during a public comment period that lasted more than an hour.
Brooke Page says she's a parent and teacher. "You know, public schools are for everybody and should represent everybody, and if you don't like it there are options," said Page. "You can home school. You can send your child to private school, and you can have them on the internet. And those are all options in this valley."
Mike Ensley is a local parent who said he was at the meeting in response to a recent social media document titled "Stop the Indoctrination of Our Children."
"A child walks to a library and sees a book about a kid with two dads, or about a transgender girl navigating what it means to truly live her authentic self, this is not about indoctrination," said Ensley. "This is about existence. This is about education. This is about seeing someone."
The "Stop the Indoctrination of Our Children" document is most prevalent on social media through postings by the group ProgressiveDevilry, which said that conservatives had planned to disrupt Tuesday's school board meeting.
None of those people spoke during the gathering.
The "Stop the Indoctrination" document targets three books that have been banned by some states and other jurisdictions around the country. The books are "The Passing Playbook", "All Boys Aren't Blue" and "Queer."
One speaker at the Wenatchee school board meeting said there were three people behind the "Stop the Indoctrination" document who were home schooling their children. The speaker said those people had tried to enter the Wenatchee High School library earlier in May to object to the three books, of which only one is available at the library.
ProgressiveDevilry published another document that it claims is a letter from Wenatchee School District Executive Assistant and Public Records Officer Kim White.
Wenatchee School District spokesperson Diana Haglund confirmed to KPQ that two adults visited the Wenatchee School Superintendent and High School Principal on May 12, and were told they could schedule an appointment at a later time to visit the library with the building principal.
The document's authenticity has not been verified by KPQ.
The large crowd gathered at the Tuesday evening school board meeting quickly left after the public comment period.
There's been a sharp rise in the reporting of book bans in the past year and a half.
The writers' organization Pen America reported last month that book bans in US public schools increased by 28% in the first half of the 2022-23 academic year. The group found that forbidden books are largely by and about people of color and LGBTQ individuals.