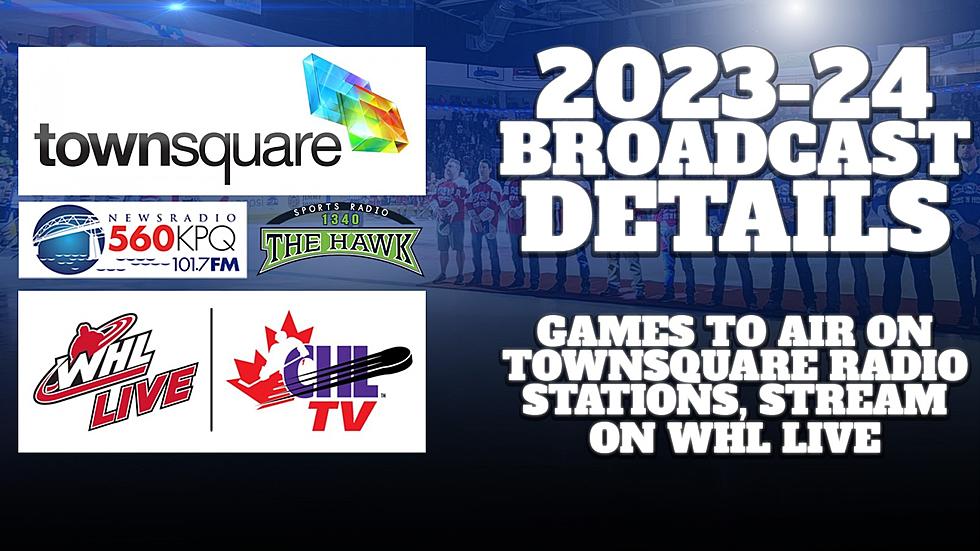 Wenatchee Wild Games To Air on KPQ and New Streaming Service
Credit: Wenatchee WIld Media
Austin Draude Wenatchee Wild Broadcast Manager
Wenatchee Wild fans can follow the team all season long on local radio and worldwide streaming as the team gets set to begin its first year in the Western Hockey League (WHL) in 2023-24.
All 68 Wenatchee Wild regular-season and playoff games will air on Townsquare Media radio stations in the Wenatchee Valley, with the bulk of this year's schedule set to air on Newsradio 560KPQ, and a few broadcasts shifting to Sportsradio 1340 The Hawk.
Wenatchee's home preseason game on September 9th against the Tri-City Americans, the team's first appearance at Town Toyota Center as a WHL club, will also be carried on KPQ.  In addition to the traditional "over-the-air" broadcast, a free internet stream is available through the stations' websites, station apps or on a smart speaker.
Austin Draude will provide play-by-play coverage for all Wild broadcasts this year, as he enters his second season with the organization and 11th season in junior hockey.
"We are honored to continue our broadcast partnership with the Wenatchee Wild," said Townsquare Media market president Laura Lawrence. "My team is so proud of each and every member of the Wild organization and we wish them continued success as they enter their inaugural season in the WHL. GO WILD!"
Fans can watch Wenatchee Wild games online this year will need to sign up with a new provider, following the organization's shift to the WHL. Regular-season and postseason games will stream on WHL Live, as well as a "freeview" of the team's preseason game against the Americans as part of a slate of more than 30 free preseason games across the Canadian Hockey League landscape. CHL TV and WHL Live are accessible on the CHL mobile app, as well as on Apple TV, Roku and Amazon Fire, and online at watch.chl.ca. Fans can download the CHL mobile app for free through the Apple app store or Google Play for Android devices.
Watching the Wild online will be even more affordable for fans this season, with regular-season WHL streaming packages available for just $124.99 in Canadian dollars, or less than $93 in American dollars. The CHL and WHL are offering their teams' season ticket holders additional subscription discounts prior to the start of the season, with details communicated directly by the teams to their season ticket holders. Fans can sign up for a subscription for the upcoming season at watch.chl.ca.
Tickets for Wenatchee's home-opening games September 22 and 23 against the Portland Winterhawks and Seattle Thunderbirds are now on sale, as well as for the September 9 preseason "Kids Day" contest against Tri-City. Admission to the Kids Day contest is free for all kids under 12 years of age. Tickets for the rest of the team's 2023-24 regular-season home games go on sale September 8th.
Season tickets are still on sale,  call 509-888-7825 or through the team office at Town Toyota Center.
Updated news and information on Wild hockey can be found on the team website and on the Wenatchee Wild's social media platforms on Facebook, Twitter, Instagram and YouTube.