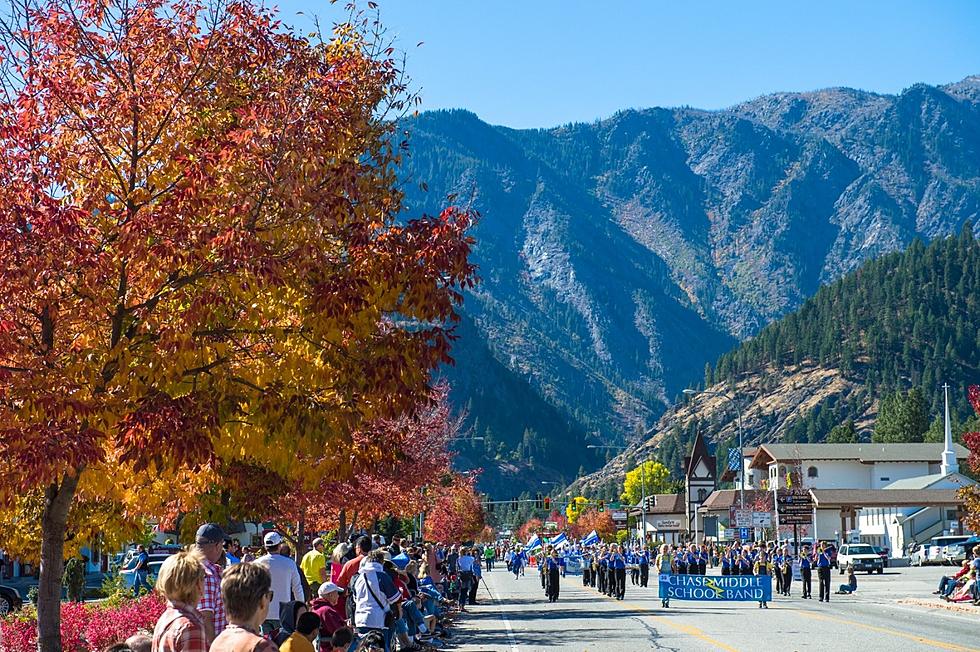 Looking For Fall Color; Washington's Most Scenic Hiking, Biking & Driving Tips
Autumn Leaf Festival Parade in September credit: Visit Leavenworth facebook
Imagine if chlorophyll was not present in plants or trees?  Chlorophyll is the key to photosynthesis, the mechanism for plants to convert sunlight into food in the form of glucose.
If somehow plants could achieve photosynthesis differently, trees especially  would look like autumn throughout much of the year because its the chlorophyll cells that give plants their predominately green color.
Without any chlorophyll, gold, red and yellow would be the normal colors we see year round.  It would be wild to see the beautiful colors we enjoy during autumn all the time.  Although a lawn of orange grass would be weird, admittedly?
That bit of fantasy aside, it's time to start planning a trip to enjoy the beautiful seasonal color in Washington state
Here is a collection of what the Evergreen State offers for great fall foliage viewing by car, hiking or bicycling.
BEST HIKES FOR SEEING FALL COLOR
Maple Pass Loop, North Cascades
7.2 miles | 2,000 feet elevation gain
Plan a date in October for the colorful larches and lake views. Begin at Rainy Lake Trailhead, the trail can be hiked on a loop in either direction. Don't forget to bring a Northwest Forest Pass for parking access.  The best time to avoid crowds on this trail is mid week.
Sullivan Lakeshore, Colville National Forest
8.2 miles | 250 feet elevation gain
This popular out and back trail from Sullivan Creek Campground to Noisy Creek Campground features Western larches, aspens, hemlocks, and birch trees.  Along the way, the gentle elevation gain passes by beaches with nice mountain views. There is a $5 day use fee charged at either campground.
Yellow Aster Butte, Mount Baker Wilderness
7.5 miles | 2,550 feet elevation gain
If you are looking for one of the best hikes for fall color in Washington state, another  popular out-and-back trek is located in the Mount Baker Wilderness. The trail offers  views of Mt. Baker, Larrabee and Shuksan. Avoid the crowds with an early start or plan a weekday hike.  You will need to display a Northwest Forest Pass for parking.
Iller Creek Trail, Spokane
5 miles | 1,200 feet elevation gain
A loop trail in Spokane's Dishman Hills Conservation Area reveals a panoramic view of fall color across the Spokane Valley, Steptoe Butte, Mica Peak, and the Palouse. TIP; The best views are from the counterclockwise route on he trail
Naches Peak Loop, Mount Rainier
3.2 miles | 600 feet elevation gain
This is a short loop of a trail with a lot to offer and very little ascent.  Hikers will enjoy a great experience with lakes, alpine meadows and Mount Rainier panoramas. The shrubs and bushes provide most of the fall color but stands of ashes, larch, and cottonwoods are also on display. Take the loop clockwise for the best vistas but there is more to enjoy if you drive to the Naches Peak Loop trailhead via Sunrise Park Road. A Northwest Forest Pass is required for parking..
Washington Park Arboretum Loop Trail, Seattle
2.5 miles | 150 feet elevation gain
The city is a great option for fall color in Washington if you are near the Washington Park Arboretum in Seattle. An app highlights the most vibrant fall colors on your mobile device. If you have a Japanese Maple in your landscaping, you know how vibrant scarlet they become.  The Arboretum touts the largest collection of Japanese Maple in North America along with dozens of other tree varieties and bushes displaying their. autumn colors.  While the Arboretum is a walking tour, not really a hike, you can also reach it on bicycle.
TERRIFIC BIKE RIDES FOR AUTUMN 
Yakima Greenway Trail
42 miles | 540 feet elevation gain
The Yakima Greenway Trail is paved for the 21 mile route from Union Gap, west to Naches.  The path travels along the Yakima and Naches Rivers. This ride is perfect for a family trek. The maples, cottonwoods, sumacs, and vine maples supply the fall colors along the path, and there are are plenty of pit stops along the way at playgrounds, parks or natural areas.  The trail runs past the Yakima Area Arboretum display gardens and natural areas.
Tieton River Nature Trail, Yakima
8.2 miles | 1,040 elevation gain
This is a mountain biking trail in the Yakima area featuring an out-and-back trek through groves of cottonwoods, sumacs, aspens, oaks, and vine maples. You'll need to display a Discover Pass to park at the Oak Creek Wildlife Area off Highway 12.  Cross over the pedestrian bridge to the Tieton River Nature trail.
Methow Valley, Carlton to Winthrop
42 miles | 750 feet elevation gain
Take a beautiful fall tour of the Methow Valley riding the lightly travelled Winthrop-Twisp Eastside Road.  The first stretch takes you past a series of ranches and then along the Twisp-Carlton Road, between the Methow River and the Okanogan National Forest. There is not much elevation gain but plenty of stops in Winthrop, Twisp, and Carlton.
Palouse to Cascades State Park Trail, Snoqualmie Pass area
24 miles | 510 feet elevation gain
On a portion of the Palouse to Cascades State Park Trail from North Bend to the Idaho border, get some great fall color and no traffic on a 24-mile starting at the Hyak Sno-Park near Snoqualmie Pass. The out and back route runs east along Keechelus Lake to Lake Easton State Park.  Riding on a packed gravel rail trail, cyclists don't have to worry about vehicle traffic while enjoying the scenic fall colors and the mountain and lake views.  A Discover Pass is required to park at Hyak Sno-Park but an automated pay station is available to purchase one on site.
TAKE A SCENIC DRIVE THIS FALL
Stevens Pass Greenway to Leavenworth
104 miles
From Everett, follow US2 through the Cascades. The highway summits  Stevens Pass and descends through scenic Tumwater Canyon along the Wenatchee River towards Leavenworth.  The fall display includes vine maples, scarlet dogwoods, and yellow and orange cottonwoods.  Its distracting so keep your eyes on the road through the curves. The bavarian village of Leavenworth hosts the annual Autumn Leaf Festival in September and an Oktoberfest in October, of course!
Sequim to the Hoh Rain Forest Visitor Center, Olympic Peninsula
105 miles
The Olympic Peninsula is not just evergreens and rainforests.  During autumn, there is a brilliant display of oranges, reds and yellows along with evergreen forests. The scenic trip begins in Sequim on Highway 101 and through Port Angeles towards the Hoh Rain Forest and visitor center.  There are a series of short hikes that begin at the visitor center if you are interested that are less crowded on weekdays.
Chuckanut Drive Scenic Byway
21 miles
Chuckanut Drive from Burlington to Bellingham is one of the most scenic drives in Washington anytime of year.  You'll pass through Skagit Valley farmland and along the cliffs of the Chuckanut Mountains.  If you only have a short amount of time to spot fall color, the maples, vine maples, and alders are packed along the Chuckanut Drive highway with the bonus views of Samish Bay and the San Juan Islands offshore. But you might want to take your time and enjoy the many stops along the way including Larrabee State Park.
Columbia River Gorge Highway 14: Washougal to White Salmon
50 miles
The incredible Columbia River Gorge offers glimpses of waterfalls and the basalt cliffs towering above. The autumnal display just adds to the magnificence. Plan a picnic at  Beacon Rock State Park.  If you are up to it, the 52-switchback trail up Beacon Rock itself takes about an hour to climb but the payoff is more stunning views of the fall color across the Gorge.